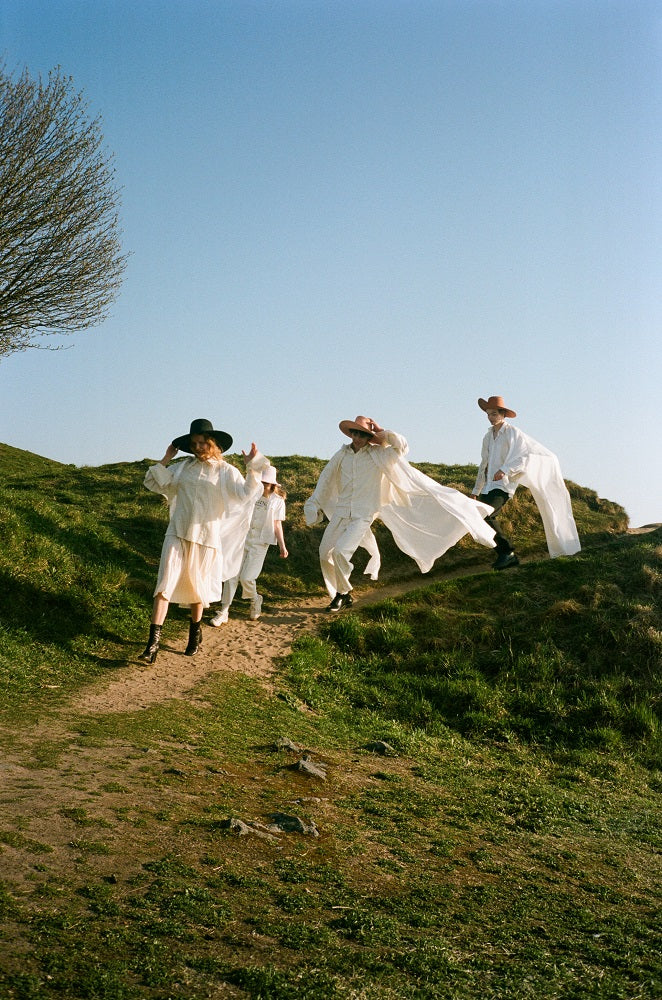 "Will Fashion's Next Big Thing Come from Finland?", writes Hypebeast, a fashion publication from Hong Kong. Vogue continues the same line of amazement by praising Aalto University, as the school has become a reliable source of industry talent. Is Finland really taking over fashion?
Finland is best known for the groundbreaking collections of Marimekko in the 1960s, but the industry had remained relatively quiet since then. However, the quiet development has taken another direction as the industry has gone fiercely forward throughout the 2010s.
Finland's success is reflected, for example, in international fashion houses where Finns work in various positions. Nowadays international fashion houses and fashion experts seem to be attracted to the peculiarities of Finnish designers' collections and even to a certain kind of strangeness.
Näytös 
– 

a stepping stone to the world

Fashion in Helsinki Week has sprung up around Näytös, Aalto University's end of year runway show for its graduating Bachelor's and Master's fashion students. This year Näytös was juried by a group of industry professionals, including Marni's Francesco Risso, photographer and director Jordan Hemingway, designer Benjamin Kirchhoff, Vogue Hommes International's Azza Yousif, and this editor.

Näytös19 / Eeva Suutari
The Näytös Award won Ines Kalliala. The jury impressed of her menswear collection describing it deeply personal and responsibly made, combining hand work and technological touches.
The graduating show has truly acquired a respectable status comparable to fashion weeks in other countries. Next year the show will be even more spectacular, as Aalto University is currently the best fashion design institute in the world, according to the listing of the newest of the Business of Fashion publication.

Näytös19 / Eeva Suutari
As Vogue writes, there is a lot of buzz around Aalto University. Tuomas Laitinen, senior lecturer at Helsinki's Aalto University, has observed Aalto University's profile slowly rise throughout Europe and beyond. "We have alumni in practically every house in Paris," says Tuomas Laitinen in Hypebeast publication. Especially Näytös is nowadays an important event for headhunters from LVMH and Saint Laurent looking for new talents. 
Towards kinder consumption
Fashion in Helsinki has established itself as the leading international event of Finland's fashion industry, with screenings, presentations, exhibitions and discussions. This year theme was responsibility and ethical consumption. Nearly 40 Finnish fashion brands and designers took part in the six-day event.

éN Straw Hats / exclusive at in-store éN Hats Shop at Kämp Garden
As the Fashion in Helsinki Week was sprung up around Näytös, there was a lot going on in Kämp Garden as well. During the week, éN Hats launched a versatile summer collection and had "The Making of Straw Hat" presentations.

éN Straw Hats / exclusive at in-store éN Hats Shop at Kämp Garden
At Garden of Friends, various brands, such as Arela, Nomen Nescio and Terhi Pölkki, arranged workshops where they gave information on different choices, materials, production methods and how to take care of clothes and shoes to make them last longer.

éN Straw Hats / exclusive at in-store éN Hats Shop at Kämp Garden
At Garden of Friends, different speakers shared small tips and ideas relating to consuming fashion, how to do it more ecological and ethical. At Garden Fashion Day, éN Hats arranged AW19 felt hat collection presentation in front of the flagship shop:
Psssst! Still looking for a summer hat?
I case you are still looking for a perfect summer hat, we have made you a few felt hat suggestions for warm days. If you are interested of our straw hats, please take a look at our Instagram or come to éN Hats Flaghip Shop at Kämp Garden where we sell straw hats exclusively.

Leopard bucket hat 290 € – shop now