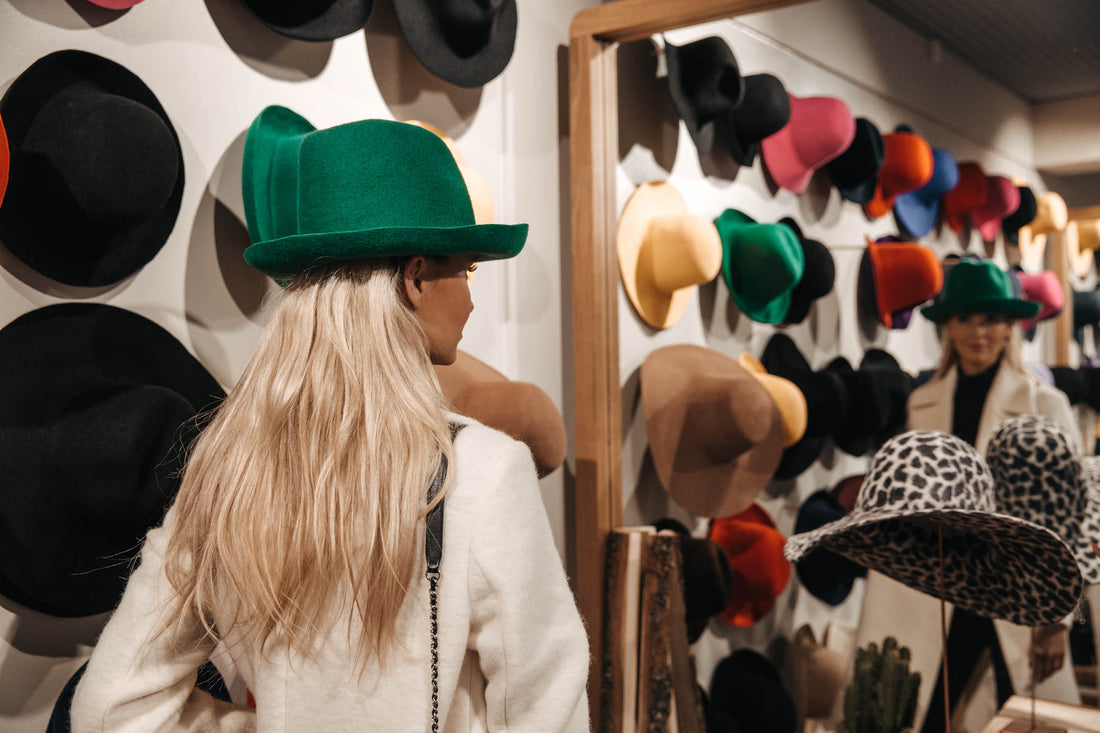 Welcome to éN Hats home tour in Garden! éN Hats flagship shop is located at Kämp Galleria Garden in the heart of beautiful Helsinki. Kämp Garden opened its doors in November 2018.
éN Hats flagship shop is located at the 2nd floor of Kämp Galleria Garden, between the busiest shopping street Aleksanterinkatu and the atmospheric Esplanadi park. The whole area is known to be the most stylish district in the city and it is a must for any style-conscious shopper.
The Neo-Renaissance styled building was originally builded in the 19th century, designed by architect Theodor Höijer.

Photo credits: Metti Forssell
Kämp Galleria
Shopping centre Kämp Galleria is home to the finest selection of international fashion and Scandinavian design. The shopping centre hosts nearly 40 top fashion and design shops and high-quality restaurant and beauty services on three floors. Kämp Galleria is famous for its elegant architecture, historical milieu and international atmosphere.
Learn more about Kämp Galleria here: https://www.kampgalleria.com/en/ 
Kämp Garden – Center for Finnish Fashion
Kämp Garden, opened in November 2018, houses central names on the Finnish fashion circuit, such as the brands Arela, Samuji, Terhi Pölkki, Hálo as well as the natural cosmetics brand Jolie.
Shopping at refreshing oasis Kämp Garden is truly a unique experience. The domed ceiling window creates a beautiful light and harmonious vibe for the entire floor.
Sustainability is the carrying theme in the entire Garden from top fashion and design shops to beauty services and high-quality restaurants.

Photo credits: Metti Forssell
In between shopping you can enjoy all-day breakfast at KUUMA (those avocado toasts are to die for...) or have some sushi for lunch at Haiku.
Furthermore, Kämp Garden hosts every month various inspirational events such as fashion shows, presentations, discussions, sales events and guided tours.

Photo credits: Tuomas Uusheimo
The Garden Room highlights the rising talents, showcases and sell collections by the best of Finnish fashion design, e.g., Mannisto, Rolf Ekroth and ONAR Studios. The Garden Room also hosts exhibitions by students from the local Aalto University and the fashion journal SSAW Magazine.
More information about Kämp Garden: https://kampgarden.com/
éN Hats Flagship Shop
éN Hats flagship shop at Kämp Garden is truly eye-catching (and extremely Instagram-friendly) with its colorful hat wall display – it is the first thing you see when entering the floor.
éN Hats shop has every day a fashion expert or designer offering high-quality consultation and customer service for future and current éN Hats owners. We have a fabolous variety of models, colors and sizes in our shop – you can get acquainted with our full range beforehand here. 

Photo credits: Metti Forssell
In case you would like to order a customized hat (e.g. with wider brim size or crown height), please come and visit our shop or contact us shop@enhats.com. We are more than happy to help you to have the perfect hat just for your needs!

Photo credits: Tuomas Uusheimo
Welcome!
Kämp Galleria Garden, 2nd floor
Pohjoisesplanadi 33
00100 Helsinki

Monday-Friday 11am-19pm
Saturday 11am-17pm
Sunday Closed
Pssst! If you are interested what's happening in éN Hats studio, stay tuned – home tour part II is on its way.
You may also be interested in